We're going to AWS Summit London - here's where you can find us
From cloud migration and software engineering to artificial intelligence and machine learning, there's never a dull moment at Daemon. AWS Summit London is the perfect way to show what we can do, and to connect with others in the industry.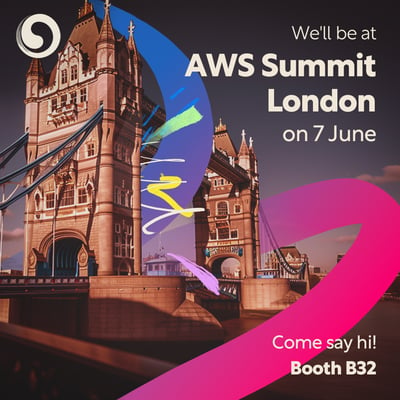 On 7th June, our merry band of Daemonites will be heading to the ExCel Centre to fly the flag for our company. We'll be there all day at Stand B32, talking about our services and answering any questions you might have.
The event may be focused on Amazon's cloud platform, but it will function as a meeting of the minds for the entire UK tech industry. We can't wait to mingle with our fellow tech enthusiasts, to share in their wisdom and, perhaps, to impart some of our own. Here's where you can find us, and what you can expect from the event.
Follow our Head of Sales Chris Exall on LinkedIn
Daemon does it all
In recent years, we've established ourselves as one of the foremost providers of AWS cloud migrations. We are an official AWS Advanced Partner, meaning that we are trusted to perform migrations for businesses of all kinds. Since gaining this status, we've overseen dozens of successful AWS projects and have received special recognition for our work with retailers.
We're immensely proud of our cloud services team, but cloud migration is just one of the services we offer our clients. Since the last AWS summit, we've upped our game in all sorts of ways. As well as showcasing our cloud capabilities, we'll be using the event to highlight our other digital transformation services:
To find out more, come and see us at Stand B32.
Connect with our Heads of Cloud, Paul Campbell and Des Walker
Big names, bigger ideas
With sister events in Milan, Paris and Washington DC, the AWS Summit is a truly global affair. This is reflected in a jam packed programme, bringing together some of the leading lights of the AWS world. There's too much going on to list everything, but highlights include:
Over 70 sessions covering everything from AI and machine learning to digital transformation
A startup-loft, where new businesses can network and gain expert advice
An Urban Nature Hub, showcasing how AWS can be used to support sustainability
Keynote speeches from AWS VP for Databases, Analytics, and AI/ ML Swami Sivasubramania, and AWS Managing Director for Europe, the Middle East and Africa Tanuja Randery
(There's also an F1 Ferrari Simulator that we're very excited about!)
Follow us on LinkedIn for all the latest from the event
If you're interested in any of our services, or if you just want to say hello, you can find us at Stand B32.
Unless we're setting a new record in the F1 simulator…
Not attending the event? We still want to hear from you! Get in touch to book a meeting.