You're drowning in data. We help you ask the right questions that cut through the noise, using the power of machine learning to extract the insights that propel your business forward
At Daemon, we take a data-first approach with our clients. We start by defining the most burning questions for your business. The ones that drive your strategic decision-making. What data do you need to guide you? What insights can catapult you ahead of the competition?
Our ML and AI solutions will help you harness the power of prediction and build the next generation of intelligent products and services. We help harvest the insights from your data, illuminating micro-patterns in consumer preferences or highlighting unexpected connections between variables. This intelligence can be applied to a diverse array of contexts, ranging from solving your scheduling challenges to personalizing content preferences to forecasting inventory requirements.
Discover how AI and image recognition technologies can help UK retailers prevent fraud
Watch the video of our innovative self-checkout prototype
Find out now
Our Services
Data Analytics
We help you get on top of your data. First, we help you build and manage your data lake, finding storage solutions that are reliable, organized, efficient and secure. Then we design, build and integrate a data pipeline that flows seamlessly from one corner of your business to the other. Finally, putting your data to work means designing dynamic dashboards that enable analysis in real-time. We understand the full spectrum of data from Cloud to DevOps.
Understand and Discover
We help you and your teams understand the basics of machine learning and AI, so you can navigate your way through the buzzwords. As we transfer knowledge to your business teams and engineering teams, we do a deep dive into your organisation's data to discover what you can do with it. We report to you the highlights of our findings and identify several scenarios of how ML/AI can be applied to solve your current business challenges.
Prove it
Now you get to see machine learning models and algorithms in action, and get a taste of their potential impact on your business through a proof of concept. We design and build it for you. Then, we help you measure the difference it makes to determine if it's worth rolling out more broadly.
Build, Model and Run
We build the full cycle of machine learning & AI products. From data gathering, data cleaning, data analysis, data pipeline. We build, train and test your models. Then we deploy and integrate them with your products. Finally, all through the process we build the capabilities of your teams to ensure you can sustainably manage your data going forward.
Retail is well-placed to benefit from the intersection of Artificial Intelligence and Machine Learning, by improving the retail experience for consumers with a personalized recommendation engine or more accurate forecasting for improved planning.
In the hyper-competitive world of retail improvements to operational efficiency can mean huge savings and increase in margins. There is an increasing shift towards optimization and efficiency and away from excess and waste. Using tools with predictive capabilities doesn't mean you can predict the future but you can do more to limit the unpleasant surprises.
At Dae.mn we are working with the latest proven technologies to give retailers easy access to the incredible power of Machine Learning and Artificial Intelligence and thrive in this dynamic and challenging landscape.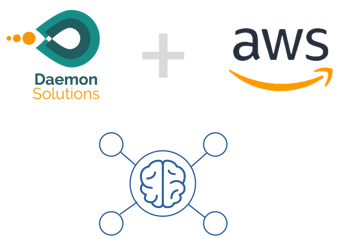 Daemon Forecast is a fully managed service that utilises the Amazon Forecast machine learning service to deliver highly accurate forecasts to help you with Product Demand, Resource and Financial Planning.
With our Daemon Forecast we use our unique combination of Machine Learning and 'source to sell' Retail expertise to greatly improve your Sales Forecast Accuracy.
Benefits include:
50% more accurate forecasts with machine learning
Reduce forecasting time from months to hours
Create virtually any time series forecast
Secure your business data and peace of mind
Daemon Personalize is a fully managed service that utilises the Amazon Personalize machine learning service that makes it easy for developers to create individualised recommendations for customers using their applications.
With our Daemon Personalize focus on delivering clear business benefits quickly. Our solution is simple to implement and requires no back-end change - we will quickly present back to you the comparative results between your current solution and the ML-driven Amazon Personalize platform.
Key use cases:
Personalised recommendations
Personalised search, i.e., re-rank search results for a user based on a user's past interactions and activity.
Personalised promotions/notifications
Daemon is an Amazon launch partner for Personalize and Forecast




"Dae.mn brought their retail experience and expertise to the Boundless Store prototype, helping us to bring it to life at the NRF Big Show."
Paul Fryer, Head of WW Solutions Architecture | Retail at Amazon Web Services (AWS)
ML & AI / Article
How AI can be used to reduce fraud in retail environments
Discover how AI can be used to reduce theft and fraud in retail environments
ML & AI / Case study
Harnessing AI to showcase the store of the future - AWS Boundless Store
We helped AWS build a Boundless Store experience as a showcase for delegates at the National Retail Federation 2020 Expo Big Show, the world's largest retail conference.
ML & AI / Case study
Better learning and engagement in a MOOC using ML & AI
Using Machine Learning (ML) we built a recommender solution for an online learning provider to improve user engagement.
ML & AI / Case study
AI and Machine Learning for improved wellbeing
Our client creates products and services for better healthcare and wellbeing. BfB Labs use an innovative sensor to improve mental wellbeing through gaming.