Daemon Does Vegas - Top Tips for attending AWS re:Invent
AWS re:Invent is back with a bang for 2023 and this year, Daemon will be there!
Join us as we explore retail transformation with Daemon, following three AWS customer value propositions to drive positive organisational change. Plus, discover our holistic migration approach that not only moves workloads but also boosts platform efficiency, empowering long-term AWS success.
If you've never been to re:Invent, or a conference on this scale before, it can be pretty overwhelming. You need to be prepared to make the most of your week and to help, I thought I would put together a list of my top tips for surviving, and thriving, at AWS re:Invent 2023.
I attended the very first AWS re:Invent back in 2012, which had around 150 sessions over three days, all from the Venetian hotel conference space. I remember thinking that this was a big event, with many thousands of attendees taking part, but it's nothing compared to the scale of it now.
AWS re:Invent has become one of the biggest conferences on the technology calendar, taking over the Las Vegas strip for an entire week. Over 60,000 attendees, six conference venues, over 2000 talks and workshops, followed by a massive party at the Vegas Festival Ground to wrap up the week.
1. Plan Your Week
The best way to make the most of your week is to know your planned schedule ahead of time. Use the Event Catalogue to build a list of favourited sessions you'd like to attend and have it on you with the official mobile app. Don't overcommit and factor in travel time between venues - less can be more!
Sessions fill up quickly, so if you can, reserve a seat ahead of time via the app. If they're fully booked, turn up early and queue if there's a session you really want to attend.
We'll publish some proposed agendas later this week to help you decide where to be.
2. Dress Appropriately
You're going to walk around a lot. The sheer scale of everything in Vegas is impressive, but it means you'll be getting your steps in each day. There are six venues hosting the event, so you'll be walking up and down the strip between these each day (as the shuttle buses get busy!). Within each venue, you'll be navigating a labyrinth of conference rooms and workshop spaces after you've made it through the huge casino located at the front of each hotel.
Prepare for the AC to be on full at the venues - it's impressive how cold they can make the rooms in the middle of a desert. So put on your comfiest trainers, pack some layers in your rucksack and always ensure you have some water with you.
3. Get Involved
Networking is a big part of the re:Invent experience, so get involved. Many attendees are there alone or in small groups, so will be open to meeting new people - be brave and get involved. Alongside the conference in the day, there's so many events happening in the evenings too.
AWS and many sponsors will host events in Vegas, most of which you'll need to register for ahead of time. There are lots of networking drinks and trips to places like Top Golf or Vegas' latest attraction, The Sphere. You can find a list of official evening events here.
4. Work Hard, Play Hard
Don't miss the AWS re:Play party at the end of the week, which is a perfect way to wrap it all up in style. There's something for everyone, with two massive stages of music, tech-based events and fairground games to play. It's always really fun and the headliner is typically someone not to miss. More information can be found here.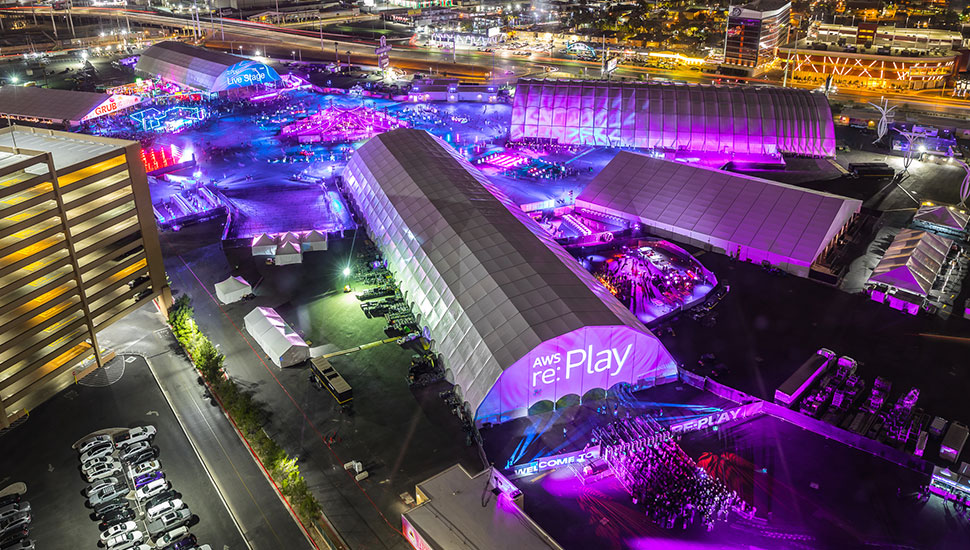 5. Meet Daemon
The most important thing to remember is to meet up with Daemon. If you'd like to meet up for a drink or lunch, attend a session or a workshop together, let us know. We can't wait to see you all there! Get in touch with myself or our Head of Cloud to schedule a chat:
You can follow us on LinkedIn for the latest updates or learn more about what we do at Daemon here.