That's a wrap 2022
As the year draws to a close, we wanted to thank you for your support over the last 12 months. 2022 is over, and it's been an eventful year. We've published our own ebook, hosted and attended events and were fortunate enough to win some awards.
Here's a look back at our 2022 highlights...
Launching our Digital Transformation ebook
We commissioned our study of 200 CTOs and CIO leaders and asked what digital transformation meant to them. The results were surprising, to say the least:
Only 8% felt that transformation initiatives were providing real value.

Many business leaders felt cut off from their own IT departments.
These are important findings for anyone working in the industry. That's why we turned them into an ebook. If you haven't seen it yet, consider it an early Christmas present from Daemon!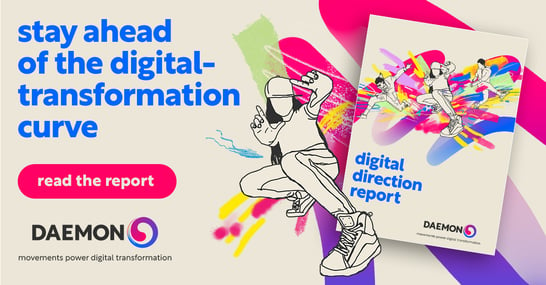 Best Companies awards
Last month, Best Companies named us the sixth best small businesses to work for in the UK for the second year running. We were also thrilled to receive a special award for our commitment to employee wellbeing.
The rankings are based on an internal survey, so they truly reflect the feelings of our employees. As our Head of People Jenny Locke said in a recent interview, "This is a place where you can be 100% yourself".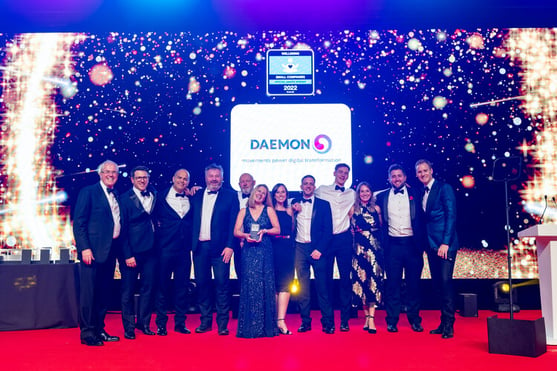 AWS EKS Designation
In another milestone, we were awarded the AWS EKS Designation for the Amazon Elastic Kubernetes Service. This recognises our success in helping customers to use the Kubernetes system effectively and shows the strength of our ongoing AWS partnership. We're proud of this achievement, and we can't wait to introduce more customers to the wonders of EKS in the new year.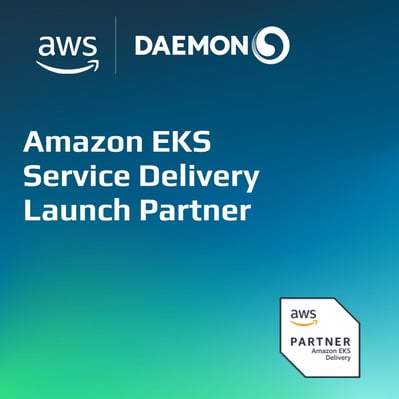 The big rebrand
As you've probably noticed, we've had a bit of a makeover. This year we updated our name and launched our new look, and the response has been amazing. As well as simplifying our brand name, we also rolled out a shiny new logo. Daemon is all about using technology to make the world a better place, and the new branding captures the energy, confidence and camaraderie that comes from this shared purpose. Check out our launch video for more information.
Getting out and about
After two years of being stuck indoors, we were keen to spread our wings in 2022. We attended as many events as possible, including AWS Reinvent in Las Vegas. We also hosted our very own Daemon FesDVal, featuring DJs, laser tag and the Daemon band!
We are really proud to have attended Women of Silicon Roundabout. It was great to see how far women have come in the industry, but it also reminded us that there's a long way to go. As our COO Jane Lockwood put it, "The future is bright, but there's a lot of work to be done."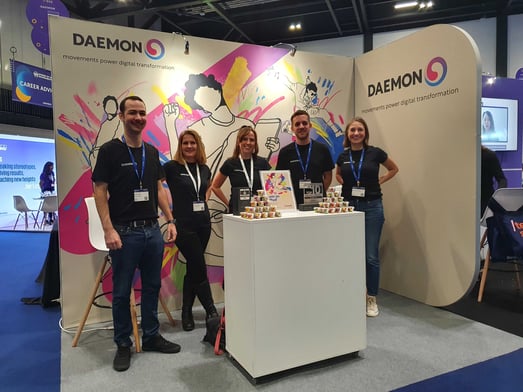 Going global
This year, our team in South Africa grew to over 20 people, doubling in size. With experts in everything from data science to electrical engineering, we couldn't ask for a more diverse and talented group. This is part of our plan to become a truly international company, so watch this space for more news!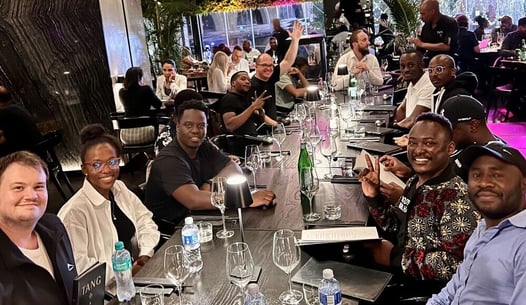 Looking forward to 2023
We've come a long way this year, and we couldn't have done it without you. We're so excited to see what the future brings but, in the meantime, thank you for your continued support.
Here's wishing you a season full of Daemonite cheer and laughter. Have a happy holiday and a tech-tastic new year!