Daemon Achieves the AWS Service Delivery Designation for Amazon EKS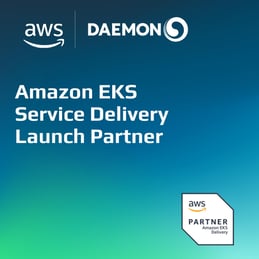 Daemon achieved the Amazon Web Service (AWS) Service Delivery designation for Amazon Elastic Kubernetes Service (Amazon EKS), recognizing that Daemon has proven success in helping customers architect, deploy, and operate containerized workloads on top of Amazon Kubernetes.

Achieving the Amazon EKS Service Delivery designation differentiates Daemon as an AWS Partner Network (APN) member that has a deep understanding of Amazon EKS, demonstrated
experience, and proven customer success helping customers manage, deliver, and optimize containerized workloads with Amazon EKS. To receive this designation, APN Partners must
possess deep AWS experience and deliver solutions seamlessly on AWS.

'"Daemon is proud to receive the designation for Amazon EKS Service Delivery and further
strengthen our AWS partnership," said co-founder, Steve Bennet. "At Daemon we are dedicated
to helping companies achieve their technology goals by leveraging the agility, breadth of
services, and pace of innovation that AWS provides. With Daemon accelerators, we make AWS
EKS an easy-to-implement solution via automation, with everything as code; providing a simple,
repeatable, secure way of delivering the right solution for your business."

AWS is enabling scalable, flexible, and cost-effective solutions from startups to global
enterprises. To support the seamless integration and deployment of these solutions, AWS
established the AWS Service Delivery Program to help customers identify APN Consulting
Partners with deep experience delivering specific AWS services.

"If you want to move applications into containers AWS EKS is a great solution and we are the
partner who can accelerate your journey. At Daemon our EKS solution establishes a
great platform for your containerisation needs, scalable, flexible and fully operationalised," said
Head of Cloud, Paul Campbell. "Our team focuses on observability and manageability to provide
the right insights and ease of use for your teams, with the ability to integrate metrics into existing
monitoring within your organisation. We can support or upskill teams and enable them for future
success, whatever the journey, we are here to guide you to be self-sufficient."

About Daemon
Daemon is a technology consultancy that energises customers, colleagues and communities to
work as one and deliver technology that makes the world a better place.

We solve business problems by turning your teams into movements that transform your tech.
We find a single vision everyone can get behind to power you forward.

We help the likes of Sainsbury's, The Home Office, Specsavers and Superdry and partner with
AWS, Atlassian and HashiCorp.