Case Studies
Find out how we've helped our clients and created movements that digital power transformation.
Read our Case studies, white papers, articles and more.
Cloud / Case Study
Best practice health check and empowering teams through training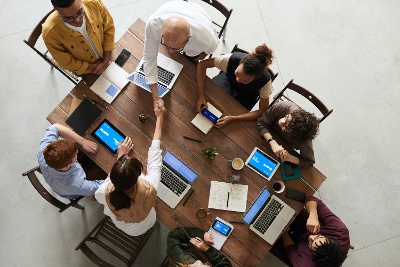 Arabesque is a global group of financial technology companies offering sustainable investment, advisory, and data services through their advanced ESG and AI capabilities.
The Challenge
Arabesque reached out to Daemon to assist with training of key members of staff and to perform a best practice review of their existing Atlassian Cloud suite of Atlassian Products. These cloud products consist of Atlassian's Confluence, Jira Software and Jira Service Desk.
Arabesque had previously approached Daemon to set them up with Atlassian Cloud products - Confluence and Jira Software. At the time they also wanted Daemon to configure the tools for some internal processes that they wanted to include. They decided to do this themselves and a few months later reached out to Daemon for assistance. They had set up their Atlassian cloud products but were not sure if this was setup correctly as they were experiencing a number of issues. They also needed assistance with training for both the general key team members and also system administrators.
What we did
In order to address the customer requirements we proposed to use our Support and Learn Services to assist them. Within our Atlassian Support service we offer a health check that can review existing Atlassian configurations and provide best-practice feedback. Our Atlassian Learn service offers basic, standard, advanced and bespoke training for end users and system administrators.
We assessed the configuration for their Confluence and Jira Software Atlassian cloud products and carried out a health check. Our health check covers a wide variety of elements and the output of which is a report that provides feedback and recommendations of areas to address. We carried this out on Confluence and this included a review of the system configuration as well as the Confluence spaces and general usage of the tool. For Jira Software we again carried out a review of the system administration, as well as reviewing the bespoke internal processes that had been included in the tool.
We provided training for key end users and a separate session for system administrators. This was done as an interactive classroom setting using real life scenarios and discussing the users configuration throughout.
Outcome
Daemon provided Arabesque with a list of best practice advice on how to amend the configuration of their Atlassian products. This included standard configuration setup and also best practice advice on their bespoke solutions that they had built within the products. This review and subsequent changes led to them having a fully functioning set of Atlassian products that was configured to work for their needs. The key members of staff and system administrators also had gained the knowledge of how to fully utilise the products and administer them in a best practice way.
If you'd like to know more about how we do things at Daemon