World Mental Health Day: Our Head of People, Jenny Locke, on how Daemon puts colleague wellbeing first
At Daemon, we understand that promoting mental health is about more than slogans. Businesses need to take practical steps to ensure that colleagues can access the support they need, and this is where Jenny Locke comes in.
As Daemon's Head of People, Jenny plays a pivotal role in ensuring that productivity never comes at the expense of wellbeing. To mark World Mental Health Day 2023, we sat down with Jenny to discuss the Daemon approach to workplace happiness.
Thanks for talking to us, Jenny. Could you start by telling us a little bit more about the meaning of wellbeing in your role as Head of People.
Daemon has a "People First" philosophy, and wellbeing is at the core of this. A business is made up of individuals and, if you want to succeed, every one of these individuals needs to be thriving.
This isn't as easy as it sounds. From my work in People functions, I've learned that wellbeing means different things to different people at different points in their lives. Some may have practical concerns about their finances or physical health, while others may be struggling with less tangible problems such as stress or depression. Our job is to account for all of these experiences and to ensure that colleagues feel they can speak up when things get tough.
Connect with Jenny on LinkedIn
How important is wellbeing in supporting Daemonites day to day?
The reality is that people make our business! I don't just mean in a cultural sense. The physical presence of people thriving in their roles is a vital part of what we deliver to our clients. We want to make the world a better place, and this has to start at home. We need to do the right thing by our employees so that they can give their best to our clients.
The nature of our industry can make this challenging. 70% of our employees work in technical roles, making it only too easy for them to get immersed in a solitary task. We love to see this kind of dedication, but it's important to remind people to get away from their screens from time to time and focus on their health.
How does Daemon support mental wellbeing among its individuals and teams?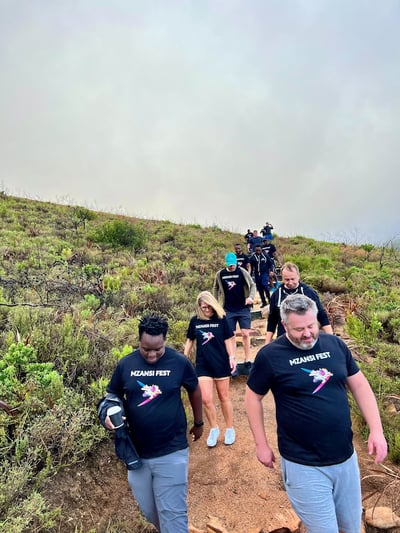 The key is to make check-ins a natural part of the culture. Slack has been a great help here. Asking how someone is doing is as simple as sending a message. If we get the sense that something is wrong, we can jump straight to a hangout for a chat.
As well as these casual check-ins, every Daemoite has a mandatory bi-monthly meeting with their people manager. This manager is usually not involved in their current project so can act as a neutral party, assessing their workload purely through the lens of wellbeing. This meeting also includes questions about the wellbeing of other colleagues, helping us to spot warning signs at an earlier stage. As far as I know, we are the only company that insists on this kind of feedback.
We're also one of the few businesses in our sector to have a dedicated wellbeing group. This is made up of 13 colleagues who work to share initiatives and tools to support every Daemonite. This can be anything from encouraging physical activity by getting people involved in a charity step challenge, to prompting conversations about grief and Seasonal Affective Disorder. We've found that it's much easier for colleagues to discuss these issues if they don't have to initiate the conversation themselves.
How important is protecting wellbeing and supporting good mental health as a part of Daemon's culture?
People are wonderfully diverse by nature and we need to keep this in mind when we're approaching wellbeing. Both our own mental health and that of our loved ones can have a significant impact on our professional life, so it's important to take everyone's circumstances into account. A healthy workplace culture is one that can support people through the full range of human emotions- celebrating the good times and offering support during the bad times.
What is the significance of World Mental Health Day 2023? Has the rise of remote working created any new mental health challenges?
Whether directly or indirectly, everyone is affected by mental health issues. World Mental Health Day plays a vital role in shining a light on these issues, and reminding us of the importance of discussing them openly. These kinds of initiatives really make a difference. We're seeing a greater willingness among employees to open up about their struggles, and to seek support when they need it. There's still a long way to go, but things are definitely moving in the right direction.
Of course, the rise of remote working has had a huge effect on workplace wellbeing. The pace of change has been incredible and, in my opinion, this has mostly been for the good. Flexible and hybrid working has made our industry more accessible, but we must be mindful of the dangers it has created from a mental health perspective.
One of the advantages of a traditional office setting was that it led to spontaneous encounters. The so-called "water cooler conversation" is important for creating a sense of camaraderie, and we have to be careful not to lose this. Remote workers need to know that they're part of a team, otherwise they can feel isolated. In the absence of spontaneous encounters, it may be necessary to create artificial encounters to keep the team spirit alive.
Our business has also grown considerably in recent years. When we were a small team in a single location, socialising happened naturally. Now, with hundreds of colleagues spread across the world, we have to work at it a bit more. Part of my job is reminding people that it's healthy to be around other people. Nothing can match the energy of getting together in the same room for a passionate conversation.
Read more: Why getting together is vital for cementing our vision
What are the next steps when it comes to supporting wellbeing at Daemon?
We've laid some solid foundations, so the next step is to build on them. The daily stand-ups and bi-monthly check-ins will continue to play a vital role, as will the wellbeing group's efforts to prompt conversations around mental health.
We'll also be taking steps to encourage more informal interactions between colleagues. People are often reluctant to strike up a conversation just for the sake of it, and we want to change this. Coffeebot is a great tool that randomly schedules meetings between team members. This time can be used to discuss anything- work-related or otherwise. In one recent session, we ended up debating the merits of pairing Marmite toast with Coco Pops!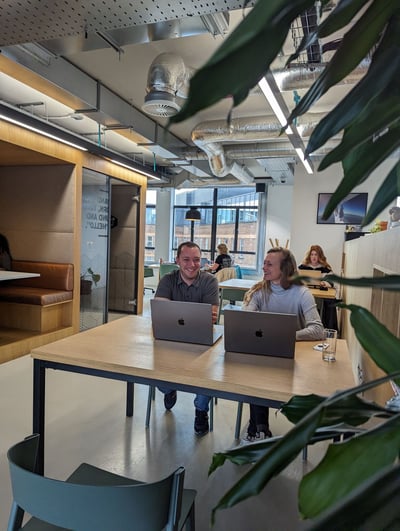 I'll take your word for it on that one! What can people do if they want to find out more about Daemon's wellbeing initiatives?
You can follow us on LinkedIn for the latest updates, or you can come and see us in person at one of our technical events. We're also taking part in the Women of Silicon Valley Roundabout on 22-23 November 2023, so come and say hi if you're there!
If you have any questions about our approach to wellbeing, or about our work in general, feel free to get in touch.